To understand cleaning ...
you must first understand the product — CARPET..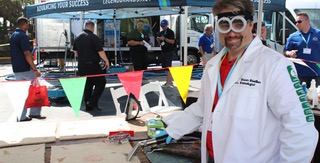 You will learn about the four primary synthetic fibers and how they are extruded, dyed, and spun into yarns before being sent to tufting machines or looms. Wool is a beautiful and luxurious product but can be a nightmare for the uninformed. Learn the proper pH, temperatures, and techniques specific to wool.
Improper installation can cause problems for the cleaning technician. You will learn the important areas of the CRI 105 Installation Standards and how they can protect you from claims that arise after cleaning.
Cleaning chemistry bears more of a resemblance to washing your clothes than to the Periodic Table and atomic structure you suffered through in high school chemistry. The similarity is that if you use the wrong chemistry, you will have poor results. Demonstrations of cleaning chemistry will simplify the subject.
You will learn the secrets spot and stain professionals before you leave the class. Knowing how to use deodorization technology as well as the benefits of properly applied protectors can be profit builders and a route to "wowing" your customer.
You will learn the five principles of cleaning along with the five most popular cleaning methods. With a thorough knowledge of the technical aspects in hand, you will be taken step-by-step through a complete residential cleaning job. The class ends with a chapter dealing with specialty problems and detailed solutions to each.
What you'll learn…
Identifying carpet fibers
Spot and stain removal
Choosing the most appropriate cleaning method
What is encapsulation and what are its benefits
How understanding chemistry can simplify your job
How to clean stain-resistant carpets
How to properly apply protectors and deodorizers
Solutions to the ten most difficult cleaning challenges
This course guides you step by step through every facet of professional carpet cleaning for beginners and experienced professionals
This course has been approved for (14) IICRC CECs.
Experience this same live experience through Zoom
1

Please complete STUDENT Registration

2

Things to have with you for our Live Seminar
"Very entertaining and educational"
Taking Shawn's Zoom class was awesome! He kept me engaged even after working the night before, and I was very tired. But the pace, and teaching flow is what made it possible for me to hang on! I give him seven stars with five being the highest ... very entertaining and educational!!!
Shawn Bisaillon has been teaching professionally for over 20 years. He hold credentials as an Approved IICRC Instructor, IICRC Master Textile Cleaner and Master Restorer. He apprenticed about cleaning and restoring oriental rugs starting at age 18. After working with the family cleaning business for several years he moved on to work with equipment and chemical manufactures and eventually as an industry expert began offering industry training classes. Shawn has trained cleaning specialists all over the world in all facets of the cleaning industry. He works with an aviation speciality group who consults for cleaning programs in some of the world largest airports. He has done training for universities, church groups, BSC, and independent smaller cleaning companies. Shawn has a passion for cleaning and restoration. He has a passion for helping people be and do better. Shawn and his wife Anna operate a successful multi truck cleaning and restoration business in Denver, CO for more than 15 years. Shawn Bisaillon is available for direct consulting opportunities to help your small business or even your large facility management team grow and be profitable. He works to make the science of cleaning fun, interesting and profitable. Contact Shawn directly to learn about additional ways he can help you.
Email
Registration for this event has expired